(Stark County, Ohio) – You can enjoy exclusive deals and discounts at Stark County family-friendly attractions, activities, and special events,  June 1-September 4, 2023.
Visit Canton's "Pigskin's Pals" Summer Fun program begins June 1, 2023. Families can access digital coupons for kid-friendly activities at area attractions and restaurants online at visitcanton.com/pigskinspals. The program named after Visit Canton's longtime mascot Pigskin, runs June 1 through September 4. This marks the sixth year for Visit Canton's summer fun program intended to increase community awareness about affordable things to do in the area for families throughout Stark County. The program has attracted the participation of over 12,000 families.
Families are invited to a free kick-off event on Friday, June 2, 11 a.m. to 2 p.m. at Beech Creek Gardens in Alliance. Families will receive free admission to access activities including trails, Nature Playce, Amazing Garden, Literacy in the Gardens, Raptor Hallow Sanctuary, Flights of Wonder Animal Shows, and a sneak peek of the new Summer 2023 outdoor exhibits. Visitors are encouraged to pack a lunch or bring snacks to enjoy while on property; there will be picnic pavilions available that day. Other community organizations and Stark County mascot friends will be in attendance, including Pro Football Hall of Fame's Goldy the G.O.A.T., Stark Parks' FeLeap the Frog, USFL Mascots, the Stark County District Library, the YMCA of Central Stark County, SPARK: Early Educational Resource Center, and the Rodman Public Library.
2023 Pigskin's Pals Summer Fun digital coupons are available online at visitcanton.com/pigskinspals to be printed and presented at participating businesses beginning June 1, 2023. 
Participating Stark County Businesses and Attractions for 2023
Families are encouraged to register with an email at visitcanton.com/pigskinspals and join the Pigskin's Pals Facebook Group to learn more about the affordable family-friendly events in Stark County and be the first to receive special offers just for Pigskin's Pals. For questions or more information visit the website or call Visit Canton at 330.454.1439.
About Visit Canton
The Stark County Convention & Visitors' Bureau, d.b.a. Visit Canton, is funded by a lodging tax administered through the Stark County Commissioners. The organization's mission is to promote travel to Stark County and facilitate operations that support the travel and tourism industry in Stark County.
Contact
Allison Gromofsky | Promotions & Grants Manager | 330.542.6375 | AllisonG@VisitCanton.com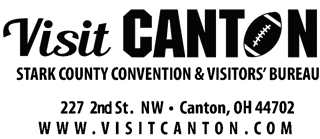 Audrey Mattevi, Reporting